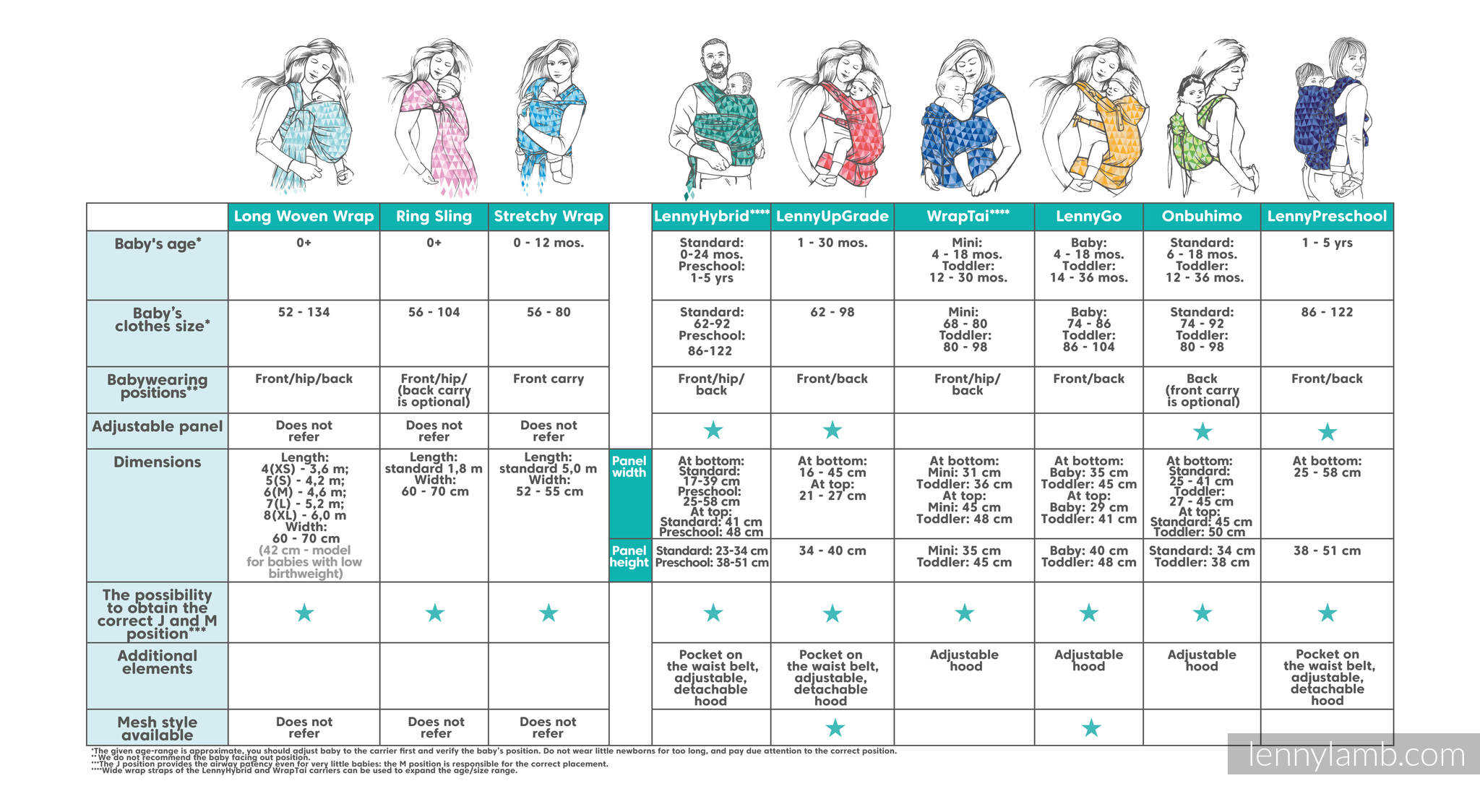 Your choice of wrap size will depend on a babywearer - not on a baby.
You have to remember that some carries will 'eat' more and some less wrap fabric.
There are five wrap sizes to chose from:
Size 4 - (length 3.6 m, width 0.6 m - 0.7 m) is suitable for following carries: kangaroo carry, hip kangaroo carry and simple ruck carry.
Size 5 - (length 4.2 m, width 0.6 m - 0.7 m) is perfect for petit and short person
Size 6 – (length 4.6 m, width 0.6 m - 0.7 m) is perfect for average built person (up to size 42/44 (14/16))
Size 7 – (length 5.2 m, width 0.6 m - 0.7 m) is perfect for person wearing size 42/44 (14/16) and bigger and also for a tall person (women over 178cm tall and men over 185cm tall – even slim built)
Size 8 - (length 6.0 m, width 0.6 m - 0.7 m) is perfect for larger parents and for fancy finishes
Fabric may shrink for about 7-9% during first wash.
There is one standard size of a stretchy wrap which will fit parents of various sizes and shapes (please remember that the maximum baby's weight is 10kg):
Size L - (length 5 m, width 0.52 m - 0.55 m)
They are available in one two sizes – 1.8m (standard) and 2.1m (long). The most universal size of ring slings is size 1.8 m. We recommend people wearing size EU 44/UK 16 choosing the size 2.1m.
They are 0.6 m - 0.7m wide. Perfect for everyone. Ring Sling can be used for babies up to 15kg.
Please remember that LennyLamb wraps are chemically processed in final stages of manufacturing, so they can shrink a bit during first wash (7-9%).
When choosing a carrier it is baby's age/ size that is the most important.
BABY CARRIERS: